1. Beth Ditto was born and raised in Arkansas.
The pop crooner was born in Searcy, Arkansas but moved to Olympia, Washington when she was 13. At the age of 17, she moved to Portland, Oregon where she lives now.
2. She started off as the lead singer of Gossip.
The band played together from 1999-2016, with their breakout hit "Standing in the Way of Control." It was written by Beth about gay marriage rights prior to the 2015 Supreme Court ruling which legalized gay marriage. The band's other big hits include "Heavy Cross," which was featured in a Christian Dior perfume commercial starring Charlize Theron.
3. She doesn't use deodorant or shave her armpits.
Calling herself punk, she once said that "punks usually smell."
4. She has a collection with MAC Cosmetics.
MAC for Beth Ditto was a summer collection that came out in 2012 with fun shades such as "Booyah!!!" and "Powder to the People." She's also designed a collection for UK clothing store Evans and rocked the Paris Fashion Week runway in 2010 for Jean Paul Gaultier.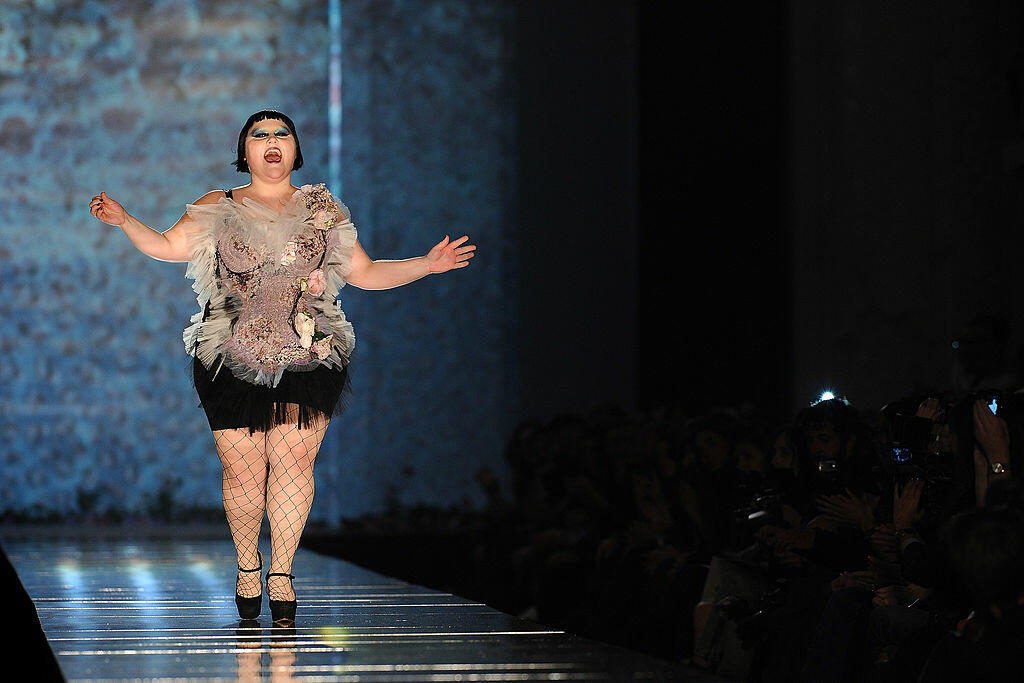 (Photo by Pascal Le Segretain/Getty Images)
5. She's a model who has graced the cover of LOVE magazine.
In 2009, LOVE editor-in-chief Katie Grand put Beth on the cover of her magazine, starting conversations about plus-size women in fashion. She's also done editorial work for other magazines, including a few nude covers.
6. She's not the biggest fan of a certain Spice Girl.
In an interview with The Telegraph, Beth called Victoria Beckham a "total tool." She said, "She thinks, 'This is how women get attention - be thin and have opinions about clothes and men.' That's bullsh-t and if I met her I would tell her."
7. She loves to crochet and garden.
She's a self-declared grandma.
8. She was nominated for Sexiest Woman of the Year at the NME Awards.
In 2007, Beth was up for this sexy award, which led her to pose nude on the cover of NME Magazine.
9. She married her sweetheart in 2013.
Beth married Kristin Ogata on June 1, 2013 in Hawaii with a "female-centric" ceremony that included a Hawaiian priestess. In an interview with Yahoo! Music, Beth dished about how her and Kristin got together.
"I met her when I was 18. She knew me as a kid, fresh from Arkansas, young and dumb and awesome. We've been best friends for years. We had an agreement that when I was 32 and she was 34, we would get married. We got together three years ago, and a year ago she was like, 'Let's get married!'"
The couple lives in Portland together and legally tied the knot in 2015 after their gorgeous white wedding.
10. Boy George is a fan.
Boy George gave a shoutout to Beth after she talked about how he affected her life as an LGBT artist.
If you're a fan of Beth Ditto, she'll bring more of her adorable dance moves to #ALTSummerCamp on Saturday, August 19th at the Queen Mary Events Park in Long Beach! For tickets, click here.