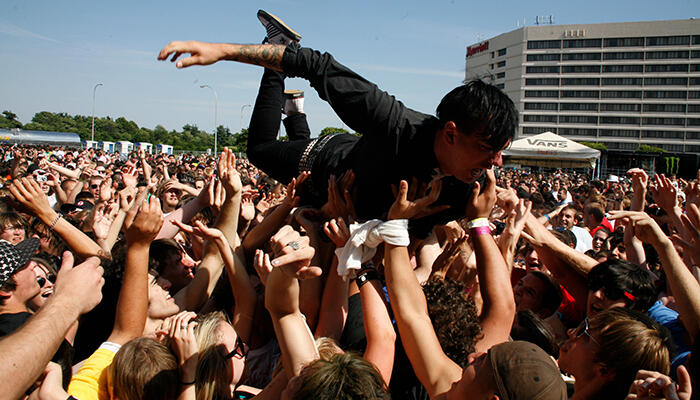 Say one final goodbye to Vans Warped Tour. Founder Kevin Lyman announced via social media that 2018 would be the traveling tour's final year. "Today, with many mixed feelings, I am here to announce that next year will be the final, full cross-country run of the Vans Warped Tour," he wrote on Twitter.

In an exclusive interview with Billboard, Lyman said his decision was based on "an evolving summer festival industry, a shrinking pool of bands, and declining ticket sales amongst its teenage demographic."



The annual summer festival helped launch the careers of many, many well known bands and artists - spanning the genres of punk, rock, EDM, hip-hop and pop. Here's just a few names you might recognize:

No Doubt
Blink-182
Fall Out Boy
Katy Perry
The Black Eyed Peas
Linkin Park
The All-American Rejects
Bad Religion
The Offspring
Sublime
Beck
Green Day
Sum 41
My Chemical Romance
Paramore
Avenged Sevenfold
Kid Rock
Limp Bizkit
Eminem
G-Eazy
Bebe Rexha

The dates for the festival's 24th and final year were revealed with the announcement. The tour will kick off on June 21st, 2018 in Pomona and wrap up in West Palm Beach, FL on August 5th, 2018.

The lineup is still in the works but Lyman is hoping that some of the iconic names from Warped Tour's past will join up with the fest throughout the summer for one last hurrah.

Artist that have previously toured with Warped Tour are chiming in on social media after the announcement - mostly remembering the festival as the one thing that inspired them to keep pushing forward in their own musical journeys.